Let's taco-bout abortion access!
It all started when…
It's Taco or Beer Challenge time again! Throughout September, Women's Medical Fund and its supporters will be eating tacos, drinking beers, donating to power abortion access, and inviting our friends to join the party. This is a virtual, online campaign, so you can join in from wherever you are!
Plus, you can even host your own #ToBC19 party or fundraiser (see below for the deets).
How do I take the Taco or Beer Challenge?
1. Eat tacos or drink beer (or both!)
2. Donate to Women's Medical Fund
3. Take a picture or video of your challenge
4. Post on social media and challenge three friends
Throw a party!
Level up your taco challenge as a supreme supporter
Host a #ToBC19 house party, happy hour, or meet-up! Bring your people together to celebrate our movement, and fund abortion for fellow Wisconsinites who can't afford the full cost. We'll make it easy and fun for you to host.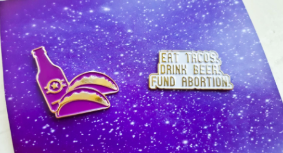 If YOU host a Taco or Beer Challenge event or Facebook fundraiser, you'll be entered to win this adorable #ToBC19 pin set! Let us know about your Taco or Beer Challenge at wmfwisc@gmail.com